This page is dedicated to the many activities and events where you might "meet & greet" Friends of the Museums of Mississauga.  If you attend these events as well, please come over and introduce yourself – we would love to meet you!
"The Journals of Susanna Moodie", February 4, 2016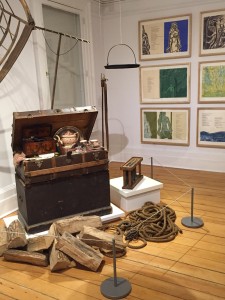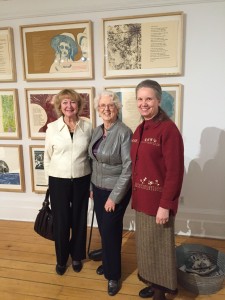 On February 4, 2016, the Friends of the Museums of Mississauga attended the VIP Opening of "The Journals of Susanna Moodie" held in the Anchorage House at Bradley Museum.  This exciting exhibit features the collaboration of writer Margaret Atwood and artist Charles Pachter. The exhibition includes a collection of 30 original prints with poems on loan from the McMichael Canadian Art Collection.
The Credits Heritage Mississauga Awards, November 5, 2015
The Friends had a wonderful time at the Heritage Mississauga Credits Awards Dinner held at the Lakeshore Convention Centre on November 5, 2015.    The Credits was a evening of good Friends, a delicious dinner and a celebration of the Heritage Heroes!
Friends' Fred Durden received the Community Heritage Award and Barb Smith was recognized with the Betty Ross Volunteer Award.  Wendy Davies was nominated for the Volunteer Heritage Award.
Congratulations to all of the nominees and recipients.   What a lovely evening!
Focus Groups – Involved in the Future of Museums in Mississauga
Friends of the Museums of Mississauga have been invited to participate in Focus Groups to provide input and insight into the past, present and future of Museums in Mississauga.
Skynner Cup Presentation, November 9, 2015
Friends attended the special presentation of the Skynner Cup to the City of Mississauga's Museums.  The Cup has Canadian, Maltese and international significance and will now be on permanent exhibition at the Anchorage House.  Also in attendance were Mayor Bonnie Crombie, Councillor Karen Ras (Ward 2), Councillor John Kovac (Ward 4) Charles Sultana, Consul General of Malta, and members of the Museums of Mississauga Advisory Committee.
The Skynner Cup is a commemorative silver cup gifted to British Royal Navy Commander John Skynner by the Maltese in the 1800's.  The Cup was given to Skynner for his efforts in protecting Malta during the Napoleonic wars from 1796 to 1815.  The Skynner family lived in the Anchorage House which is now on the Bradley Museum site, from 1830 to 1890.